Carrie Posey
Mixed Media, Painting, Watercolor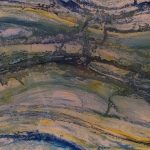 Studio
Jackrabbit Brewing Co.
1323 Terminal Street
West Sacramento, CA
2021 Open Studio:

Weekend One
About Carrie Posey
Hello! My name is Carrie and I have been actively creating since I was 12 years old. I was fortunate enough to have a 5th grade teacher who loved bringing art into her classroom and cultivated the creative love in me. Being able to create has been an amazing journey for me and I love to share it with others. I teach classes, host painting parties, and offer commissions as part of this journey! 
There are no words to describe what the creative process has meant to me but being able to express one's self through art is a beautiful opportunity to share with the world your thoughts, emotions, and beliefs. It can set you free from the worldly constraints of everyday life. Most people think that they have to be good at art to experience this 'free' feeling but I am here to tell you that simply isn't true. If you can open your mind and try the experience for what it is (have no expectations) you will experience that feeling too! 
Services Offered
Takes Commissions, Teaches Classes