Hildie Spautz
Drawing, Mixed Media, Painting, Photography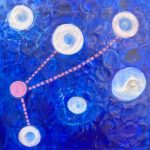 Studio
Hildie's Garden Studio
1648 Cordano Way
Sacramento, CA
2021 Open Studio:
About Hildie Spautz
Watch Hildie's 2020 Conversations With Artists Video Here
I am an American-Luxembourgish mixed-media artist and professional restoration ecologist. My art resides at the intersection of science, dreams, and spirituality, and is informed by studies in language, cartography, Tibetan Buddhism, yoga, Japanese ceramics, ornithology, botany, and ecosystem ecology, and travels in the USA, Australia, and Europe.
I use images of nature, ancient motifs, and patterns to map my  dreams, spiritual and physical journeys, ecological systems, and climate change. My encaustic wax paintings incorporate digitally altered original photography, collaboration with artificial intelligence (an exciting new venture), collage, vintage ephemera, and a range of drawing and painting media. I also create embellished cyanotypes (alternative photography process using the sun) and other mixed media works on paper.  
My outdoor garden studio was open on Saturday and Sunday, September 10 & 11, 2022, from 10 am to 5 pm. Please come and say hello!  Please contact me to schedule a personal virtual studio tour.  Visit www.hildiespautz.com  for more about my work and to inquire about purchasing.
Services Offered
Takes Commissions, Teaches Classes