Sarah Golden
Mixed Media, Painting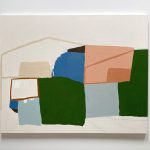 Studio
Sarah Golden Studio
3923 3rd Avenue
Sacramento, CA
2021 Open Studio:
About Sarah Golden
Sarah Golden is a mixed media abstract painter living in Sacramento, California. Preferring to work with loose linen and cotton canvas on the wall or table. Using the canvas as a textile more than a traditional canvas during the painting process. Inspired by the rural area, with a population of less than 200, where she grew up in Northern California. Working with repetition of lines, dots, mixing patterns and shapes to create abstracted aerial landscapes.
A fabric designer for Andover Fabrics since 2016. She currently has work available at Anthropologie.
You can see current work at sarahgolden.org.
Services Offered
Takes Commissions