Sherry Remez
Jewelry, Textiles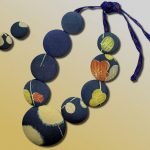 Studio
3671 East Curtis Drive
Sacramento, CA 95818
2021 Open Studio:
About Sherry Remez
Sherry Remez  is a self-taught artist-designer and lifelong "maker", fabricating unique wearable art since the early 1980's.  Authenticity and originality are her guiding creative principles, with an eye on sustainability.
Her work appeared in Ornament Magazine's 10 Anniversary edition; the Richmond Museum of Art; Obiko in San Francisco (the flagship store of the California art-to-wear movement); was collected by Elton John at L.A. Eyeworks, Los Angeles; selected for the San Francisco Asian Art Museum shop, the Fowler Museum at UCLA store, Visions Museum of Textile Art, San Diego shop; and in boutiques and galleries across the U.S and on Maui, Hawaii.
This ONE WORLD IN TEXTILES collection for her brand, Art House Maui pays homage to, and reflects an appreciation for, textile artisans, honoring their culture and preserving their work.  Highlighted in each of her pieces are specific portions of recycled or up-cycled, vintage or contemporary, woven, printed and/or hand dyed fabric panels, precious scraps or remnants collected from travels and other discoveries around the Globe.  Saved from being lost or discarded, the resulting abstract work expresses a fresh design story: a transformation into unique one-of-a-kind "Wearable Artifacts".
Neckpieces:  9 or 10 Graduated fabric-covered medallions measuring from 3/4" to 1 7/8" diameter make up the basic form.  They are connected by coordinated bespoke machine-embroidered grosgrain ribbon which allows for easy adjustment from choker to bib length.  At approximately 1 ounce, they proide visual volume and comfortably form to the shape of the wearer.  Black inset Plexiglas disks finish the reverse side of each signed piece.  The affirmation: "We Are All Connected Beyond Borders" is hand-etched onto the largest/center element.                                                                    Coordinating button-style Earrings with stainless steel posts are offered separately.
Nine Groupings:  Vintage Japan (silk, cotton, etc.); Vintage Hawaii (cotton prints); Mid-Century N. America (Atomic prints, Barkcloth, etc.); Early 20th Century Feed Sack cotton; Contemporary West African "DutchWax" printed cotton; Contemporary handwoven cotton from Oaxaca, Mexico; 1970's hand-woven cotton from Guatemala, Deconstructed Kantha Quilts (vintage sarees) from India and Special Editions, including novelty prints and textiles from outside a single group.
"I thoroughly enjoy every aspect of the making of this energetically positive and uplifting collection.  I hope that my joy is transferred to you, the wearer, along with the important reminder of our Universal connection with each other and this beautiful planet"
Be Well, & Enjoy Life to the Fullest