Shirley Hazlett
Painting, Printmaking, Watercolor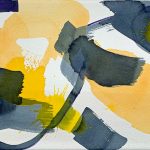 Studio
Shirley Hazlett
4311 Attawa Ave, near Two Rivers Cider
Sacramento, CA 95822
2021 Open Studio:

Weekend One
About Shirley Hazlett
Shirley Hazlett hails from the San Francisco Bay Area and loves art that abstractly captures the sense of a place or a memory. She creates watercolor paintings, paintings on silk, and encaustic monotypes, in a range of sizes and prices. Gift cards to board room paintings!
 She has had a lifelong interest in the arts, starting at age 7 when she was the self-appointed family photographer with her prized Brownie Starflash camera. She ultimately completed an MFA in Painting, with Honors, at the San Francisco Art Institute and holds dual BA degrees in Art Studio and Art History from Sac State. 
 Shirley will be participating in Sac Open Studios, September 11 & 12, 2021. She invites you to visit her Sacramento art studio, located next to Two Rivers Cider at 4311 Attawa Avenue, Hollywood Park Region of Sacramento, CA. In 2021, please drop by between 10:00a and 5:00p.
Individual appointments are also be available at a time convenient to you. This is Shirley's studio, year round. Please email shirley@shirleyhazlett.com for an appointment or additional information.
           Shirley has shown paintings on the west coast, at the Crocker Art Museum, the California Museum, The Shoshana Wayne Gallery in Santa Monica, ArtSpace in British Columbia, KB Gallery in Oregon, and Root Division in San Francisco. In Sacramento, she has shown at Verge, Axis Gallery, Shimo Center for the Arts, ARTHOUSE, and the Temp and in Davis at the Pence Gallery. Her work is publicly installed at locations in Sacramento, Carmichael, and San Francisco.
           See a 15 minute interview with Shirley, about an hour in -  click on or copy and paste the link below:
Services Offered
Teaches Classes