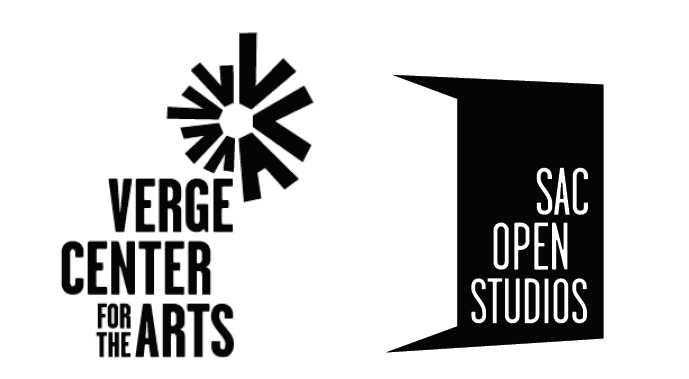 We're excited to announce that 2021 Sac Open Studios will be a hybrid virtual and in-person program. Virtual artist interviews will take place Summer 2021 and the in-person open studios tour will be held during the middle two weekends of September.
In efforts to accommodate all artists interested in participating, there's a limited number of scholarships available for artists with demonstrated financial need and a committed studio practice. To apply for a scholarship, fill out the scholarship application here. All scholarship recipients will be notified by April 2021.
If you would like to donate the registration fee for an artist experiencing financial need, there is an option to do so when you pay your registration fee. You may also email Verge's Public Engagement and Outreach Manager, Justina Martino at sacopenstudios@vergecontemporary.org to donate funds to cover an artist's registration fee. Registration fee donors will be acknowledged in the 2021 Sac Open Studios Guide.
2021 Sac Open Studios Artist Participation includes:
Inclusion in the in-person studio tour on Weekend 1 (September 11-12) or Weekend 2 (September 18-19) depending on your location. Traditionally, participating artists open their art studios to the public during their assigned weekend. During Sac Open Studios, the term art studio takes many forms. While many participating artists have traditional work spaces in studio facilities, many Sac Open Studios artists open their home studios or utilize other spaces such as cafés, community centers, garages or backyards to display their art during their assigned weekend. Due to the the continuation of COVID-19, all participating artists will be required to enforce mask wearing and social distancing verbally and with signage at their studios during the in-person tour. COVID-19 guidelines will also be included in the Sac Open Studios Guide in a prominent location.
Option to have a 15-minute virtual interview during our Sac Open Studios live interview series, Conversations with Artists. Conversations with Artists is a virtual interview series meant to complement the in-person studio tour. During this series, which is free to the public, regional art professionals interview Sac Open Studios artists about their artwork, inspirations, processes, and more. During the 2021 Sac Open Studios program, Conversations with Artists will take place during July and August 2021. All live interviews will be recorded and links will be provided to the artists to share with their networks.
Full Color Artist Listing with artwork image and contact information in the 2021 Sac Open Studios guide
Opportunity to list an Artist Demo in the Sac Open Studios Guide. An artist demo is an educational artist demonstration presented at specific times during your assigned weekend. The demonstration should include step by step instructions to complete an artistic technique.
Artist Profile in the Sac Open Studios Artist Directory on vergecontemporary.org
Artist Listing on the 2021 Sac Open Studios Mobile App
Free enrollment and a recording of the 2021 Sac Open Studios How to Promote Your Open Studio Workshop
Discounted advertising rates in the 2021 Sac Open Studios guide
Inclusion in the 2021 Sac Open Studios Preview Exhibition at Verge Center for the Arts
Important Dates
Schedule to come.