Diane Macfarlane
Ceramics, Mixed Media, Painting, Photography, Watercolor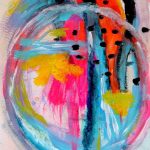 Studio
Clay Fig Studio
1369 7th Avenue
Sacramento, CA 95818
2021 Open Studio:
About Diane Macfarlane
Diane Macfarlane's talent was first noticed as a child in inner city Chicago, where she studied at the Art Institute and sold her first painting at age 11. Her unlikely dream was to move west and work for wildlife and environmental conservation.  Diane's successful 35-year career as a wildlife biologist remains a strong artistic influence. 
Unifying themes of nature and indigenous cultures anchor Diane's growth from realism thru expressionist and abstract art in acrylic, mixed media, watercolor, photography and ceramics.  She favors color palettes that reflect the joy, brilliance and textures of her beloved western landscapes.
Artistic experimentation is Diane's joy, incorporating expressive textures, innovative materials and techniques. As she often says, "Who knows where my art will take me next?  But I guarantee I'll enjoy the journey!"